"Train a child in the way he should go, and when he is old he will not turn from it." Proverbs 22: 6
Every child has been uniquely created by God and is included in His plan of salvation. God has accepted the victory of His Son Jesus over sin, and desires that all children receive this victory through faith and be adopted as His very own children. (Mark 10: 14)

God has entrusted parents with the responsibility of guiding their children to a faith relationship which is constantly growing and is lived out according to His purpose. (Proverbs 22: 6)

God has also called His church to equip and empower parents by providing multiple Christ-centered opportunities that lead children to faith, that enable children to grow in their faith and share their faith. (Deuteronomy 6: 7)

We are privileged to provide a Christian educational environment which assists parents in fostering their children's spiritual, social, emotional, cognitive, and physical development through play and through hands-on experience. (John 21: 15)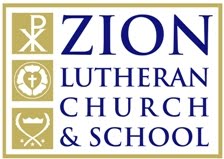 Our primary purpose is to provide the opportunity for students to find identity, purpose and power for their life in Christ. Methods of instruction are developmentally appropriate and adjusted when possible for individual differences.

Our objectives are to guide each child to:


Recognize himself as a child of God.

Develop an understanding of God and His love.

Cultivate an inquiring mind and thinking skills.

Acquire knowledge and skills in the prescribed curriculum.

Experience, appreciate and respect God's creation.

Develop a positive self-concept.

Learn personal responsibility.

Respect the authority of home and school.

Grow caring relationships by recognizing the right, privileges and individual differences of others.
Non - Discriminatory Policy:
Zion Lutheran School admits students of any race, color, national and ethnic origin to all the rights, privileges, programs, and activities generally accorded or made available to students at the school. It does not discriminate on the basis of race, color, national and ethnic origin in administration of its educational policies, admissions policies, and athletic and other school administered programs.